---
FRIENDS AND COMRADES!  STEP RIGHT UP, STEP RIGHT UP!!!
It's the sensation of the century!
---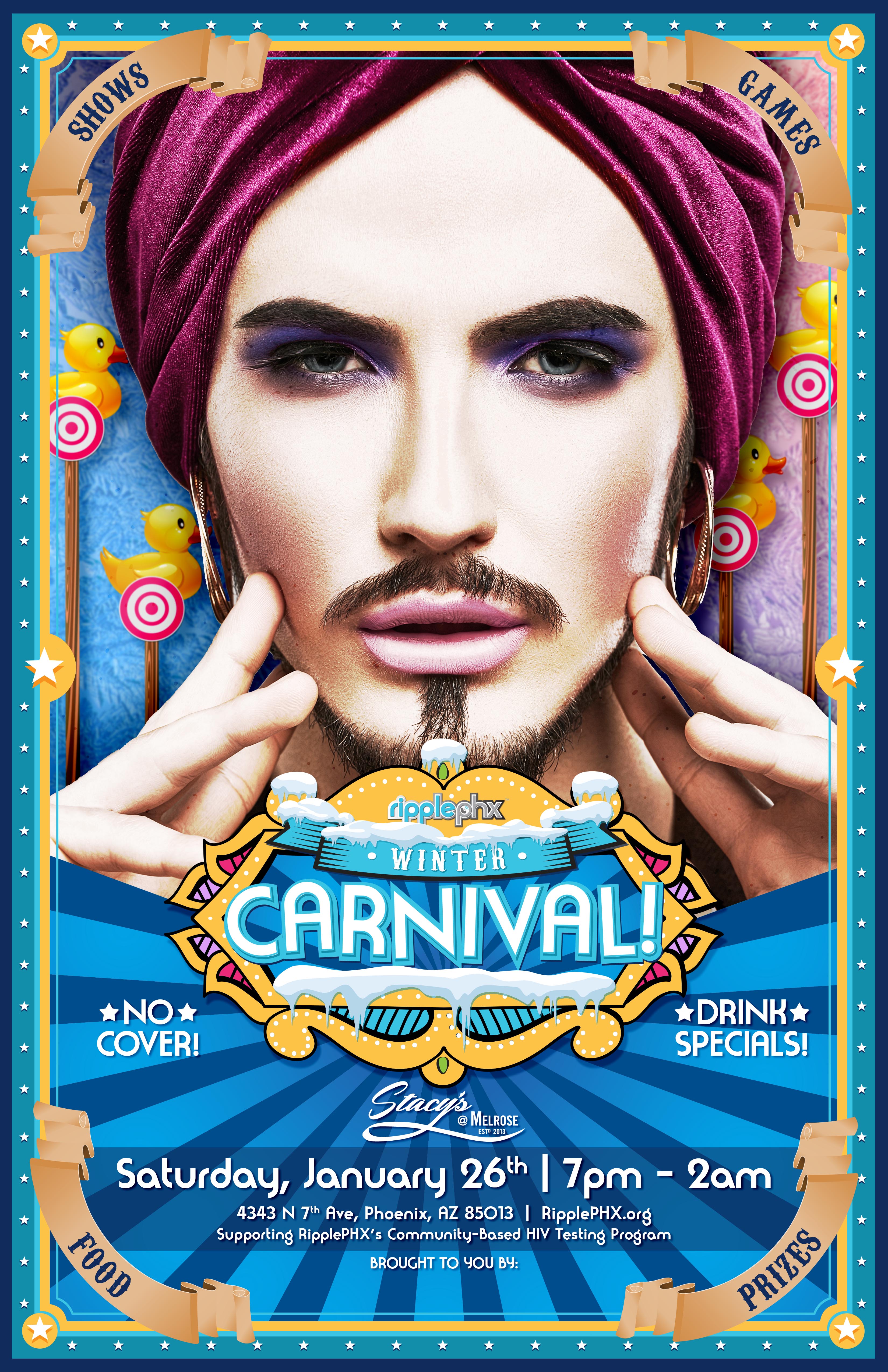 Welcome to The Winter Carnival!
You're about to behold a sight so enormous, so amazing, so utterly wondrous, that we urge any persons who are easily excited or hysterical, who dream big, or who are quickly aroused, to save the date – TODAY – for RipplePHX's first Winter Carnival Event!  Witness a spectacle made by people right here in your backyard – entirely for you!  Feel free to explore if you must!
Step right up, step right up!  Games, prizes, and sideshows galore!  Everyone's a winner, everyone gets a peek!  That's right! You, too, can be one of the first – EVER – to see such an amazing sight!
Join us, at the world-renowned Stacy's @ Melrose, for a night jam-packed with sideshow attractions, dazzling entertainers, glittering lights, mouth-watering delights, thrilling amusements and spectacles galore – Saturday, January 26th!  Fun for the entire rainbow-family – supporting HIV programs and services, as well as scholarships programs in YOUR community!
The greatest show in all of Phoenix, don't miss this night FILLED with curiosities, excitement, love and shenanigans!
The World's Greatest Attractions!
Date & Time:
Saturday January 26, 2019 7:00 pm – 2:00 am
Location:
Stacy's @ Melrose
4343 N 7th Ave
Phoenix, AZ 85013
(map)
Slay Your Play!
Slay never-seen-before updates of your favorite carnival games, including:
The Blasting Gallery
Race to the Finish
Big Basket Toss
High/Low Card Play
PrEP in the Hole
Catch that Crown
And Much, Much More!
100% of the proceeds from ticket sales go directly back to RipplePHX's Programs and Services for the community!
Show-Stopping Performances!
Watch as the sensational Pandora DeStrange astounds you as she takes the stage under the Big Top with her mysterious movements and her troupe of entertainers!
Wondrous Surprises!
Who would you PAY to see in this Sideshow Spectacular?
Vote today for your favorite and the Top 6 Fabulous Fundraisers will transform themselves into creatures like you've never seen before for a one-time-only appearance in the Sideshow! Don't miss it!
100% of the funds raised go directly back to RipplePHX's Programs and Services for the community!
Everyone's a Winner!
Grab your tickets and try your luck at the most exciting carnival games where everyone's a winner!  From the cutest rubber duckies to gallons of silky lube, the more you play, the more you win!
Two lucky people just like you will win BIG in raffles filled with exotic prizes that you can't get anywhere else! The more tickets you enter, the bigger chance you have to win!
100% of the proceeds from ticket sales go directly back to RipplePHX's Programs and Services for the community!
Dazzle Your Mouth!
Warm Nuts, Funnel Cakes, Hot Dogs and more! Open wide and swallow something delicious from the all-new Stacy's Grill!
Then, you'll want to wash it down with Stacy's thirst-quenching drink specials all night long!
Drink specials & menu coming soon!
Just 1 Minute!
From the ticket booth, you'll be able to register for FREE Rapid HIV Testing where you can update your status in one quick minute!
His & Her Majesty!
See Mister RipplePHX Blake Riley and Miss RipplePHX Ali L'aveau host a ridiculous Royal Game in the midway where you can win big and do-good!
100% of the proceeds from your treasured tickets redeemed at the Royal Games will be equally divided and donated to the Phoenix Pride Scholarship Fund in Blake and Ali's name to support their road to Mister & Miss Phoenix Pride!
Have you ever wanted to see some of your favorite people on a stage for a one-of-a-kind performance?  Donate today to see one of these amazing people from our community who have "stepped-right-up" to entertain you in the Winter Carnival Sideshow!  The Top 6 People who raise the most money will get into character and perform – LIVE – in the Sideshow Tent on January 26th!  Vote Today!
100% of money donated goes directly back into programs and services to reduce the impact of HIV in the Phoenix LGBTQ+ Community! RipplePHX is a 501(c)(3) nonprofit organization and your donation may be tax deductible.