---
Bundle Up & Celebrate!
January 31 & February 1  |  7pm – 2am
---
---
FRIENDS AND COMRADES!  STEP RIGHT UP, STEP RIGHT UP!!!
It's the sensation of the century!
---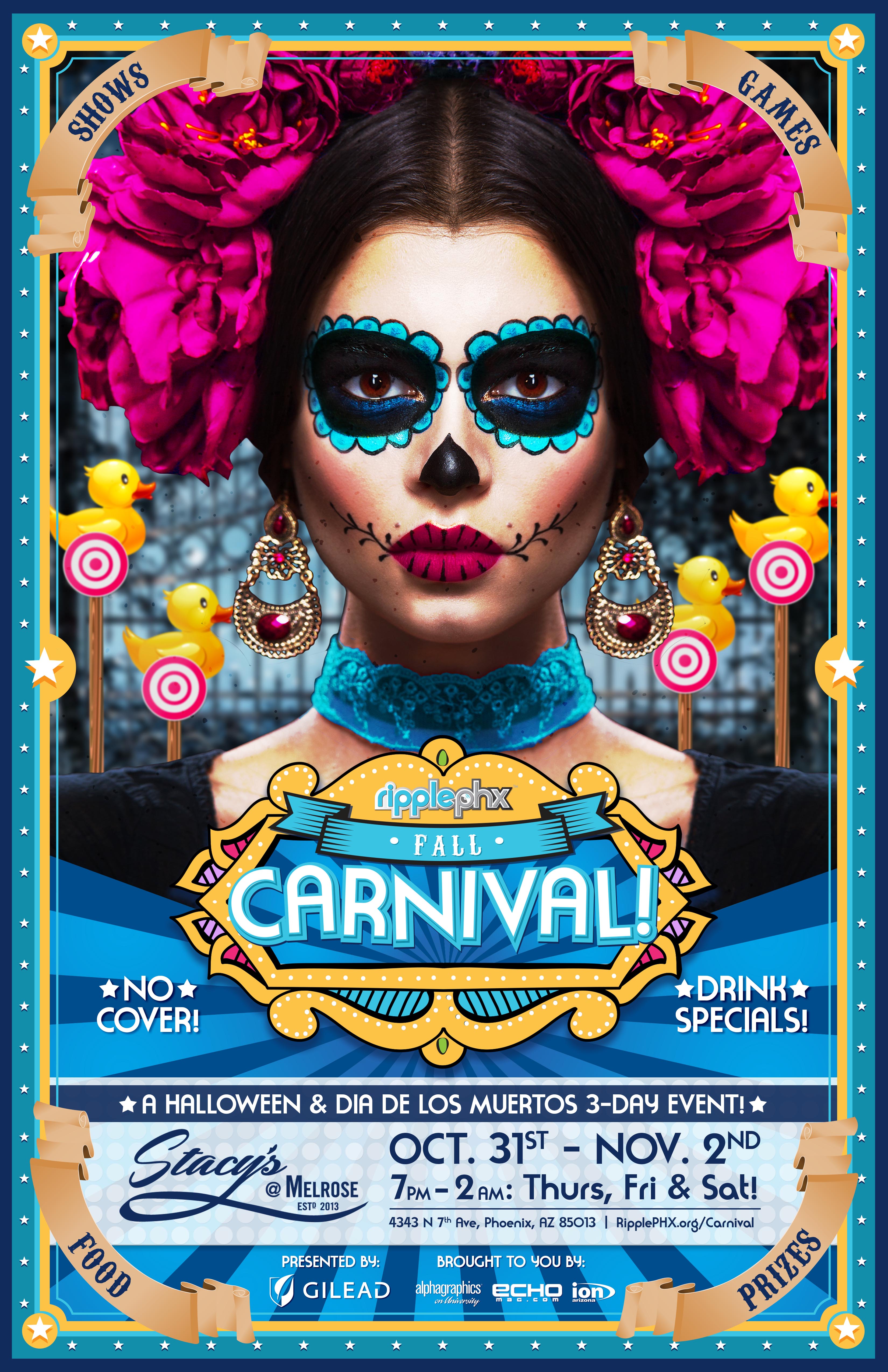 Welcome to The Winter Carnival!
You're about to behold a sight so enormous, so amazing, so utterly wondrous, that we urge any persons who are easily excited, hysterical, or who are quickly aroused, to save the date – TODAY – for RipplePHX's award-nominated event of the season – The Winter Carnival!  Witness a spectacle built entirely for your entertainment!
Step right up, step right up!  Games, prizes, and sideshows galore!  Everyone's a winner, everyone gets a peek!  That's right! You, too, can be one of the few people across the entire planet to see such an amazing sight!  Join us, at the world-renowned Stacy's @ Melrose, for a weekend jam-packed with sideshow attractions, dazzling entertainers, glittering lights, mouth-watering delights, thrilling amusements and spectacles galore – Friday, January 31st and Saturday, February 1st!
Fun for the entire rainbow-family – supporting HIV programs and services in YOUR community!  The greatest event in all of Phoenix, don't miss this weekend FILLED with curiosities, excitement, love and shenanigans!
The World's Greatest Attractions!
Dates & Times:
Thursday, October 31
7:00 pm – 2:00 am
Friday, November 1
7:00 pm – 2:00 am
Saturday, November 2
7:00 pm – 2:00 am
Location:
Stacy's @ Melrose
4343 N 7th Ave
Phoenix, AZ 85013 (map)
Slay Your Play!
We've updated some of the most classic and iconic carnival games played on midways around the world with new and exciting games added to the lineup each season!
100% of the proceeds from ticket sales go directly back to RipplePHX's Programs and Services for the community!
Everyone's a Winner!
Grab your tickets and try your luck at the most exciting carnival games where everyone's a winner!  From buttons, keychains, stuffed animals, headphones, and even big bottles of lube, the more you play, the more you can win!  Wear your best Halloween or Día de los Muertos Costume and enter our Costume Contest and Face Painting Contest each night to win great prizes!
100% of the proceeds from ticket sales go directly back to RipplePHX's Programs and Services for the community!
Dazzle Your Mouth!
Open wide and swallow something delicious from the all-new Stacy's Grill!
Then, you'll want to wash it down with Stacy's thirst-quenching drink specials all weekend long!
Fall Food and Drink Specials Coming Soon!
Just a Prick!
From the ticket booth, you'll be able to register for FREE Rapid HIV Testing where you can update your status in just a few minutes!
Some of our Favorite Moments
Spring Carnival 2019

Winter Carnival 2019

Thank you to our Sponsors!
---
COMMUNITY PARTNER SPONSORS: