So you're allergic to Latex? We've got you.
It's estimated that 1-3% of the U.S. population has a sensitivity to latex, and that can be especially problematic for you if you get a rash on (or in) your sensitive bits after sex. Sexy, right?
Click here to read an article from WebMD regarding the symptoms & treatment for Latex Allergies
So, how to wrap the wang without it becoming a W.O.A.D. (Weapon of Ass-Destruction)? You have some great, but limited, Non-Latex Condom Solutions!!

LifeStyles has done an amazing job of bringing a whole category of Latex-Free Condoms together in a product line called Skyn. Their attention to detail and sexy packaging isn't something you often see with items that are outside of mainstream lines – but the matte black packaging and royal jeweled tones will make your partner feel like they're fucking a prince.
And – talk about variety – their website offers selections that include: Original, Elite (20% Thinner), Extra Studded, Extra Lube, and Large!  While the Ripple Team has been on the hunt to find these at bulk, non-profit-friendly pricing….they seem to be easily available locally.  We searched Walgreens throughout Central Phoenix in April 2018, and found the Original, Elite, and Large in-stock at the locations we checked, ranging from 3 to 24 packs and they're pretty comparable with standard latex condoms. We bought a box to try out for a future post!

Durex condoms seem to be on-sale quite a bit, which may make these a great choice if you catch them on a sale week! They're "ultra-thin, lubricated, polyisoprene, non-latex condoms engineered to provide natural skin on skin feeling for latex-sensitive users seeking heightened sensitivity, sensation and excitement" according to their website. But you'll only find them in one size – standard fit.  The Real Feels were also in-stock in Central Phoenix Walgreens locations in 3 to 10 pack boxes.
Claiming to be America's Thinnest Non-Latex Condom, the Trojan adds to it's BareSkin line with this great little non-latex option. We found this one at local Phoenix Target Stores at the time of this article, and pretty comparable to other condoms. But, you'll only find this is one size – standard fit.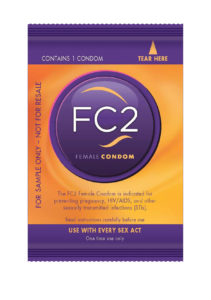 The only internal condom on the market, the FC2, or "Female Condom", or "Bottom Condom" goes inside the vagina or anus and takes the condom from external to internal.  An inner ring locks the condom in a woman's cervix, or pops out when some creative folks use it for anal sex. They've recently pulled them from store shelves and moved to a prescription-centric model – making them much more difficult to grab in those "gonna-get-some-tonight" moments.
You can also order them from their website, although they restrict ordering to once a month.  They are non-latex, and an amazing option if the top doesn't like to wear a condom or refuses to wear one. With the right planning to get your night-stand stocked up, this can be another great non-latex option to add to your toolbox!
Finally, a note about Lamb Skin Condoms
While they're latex-free, they're only intended for pregnancy prevention. STIs and HIV can still get through the poor lamb's intestine that they're made out of, so they are not a great option to prevent the spread of HIV.